This is part of my Horrorathon for Mothers/Men Against Senseless Killings (aka MASK). Revisiting is a series where I revisit a horror film I've already seen a long time ago to see if I feel the same way about it.
Also a word of warning – if you don't want spoilers, skip the recap and go straight to the verdict.
From IMDb: An unfaithful wife encounters the zombie of her dead lover; the demonic cenobites are pursuing him after he escaped their sadomasochistic underworld.
I have never been a huge Hellraiser fan, but I've always appreciated its place in the horror canon and the way it balances the pain and pleasure that pull the characters to their sometimes horrific destinies.
When choosing a second franchise for the Horrorathon, I landed on Hellraiser because I could stream most of the films, and I was curious to know what a shitshow the franchise would become over time. The Hellraiser film franchise is built on pettiness. In order for the movie studio to continue to hold the rights, they periodically release sequels to show they are doing something with the intellectual content. This means they will often find a random script, and insert elements to make it a Hellraiser movie rather than writing movies meant to be Hellraiser movies.
Written and directed by acclaimed horror writer Clive Barker in his directing debut, this film is a shining example of his unique vision of gory horror laced with dark sexuality. It will also show you way more hooks going through skin than you would likely ever want to see in a lifetime.
Recap
We begin with a man named Frank purchasing a gold puzzle box from a Moroccan market. The seller helpfully and ominously states, "take it – it's yours. It always was."
Frank plays with the puzzle box till he seems to solve part of it, resulting in chains and hooks ripping through his skin and pulling him apart. His body appears in pieces in a room hanging with chains and hooks. A figure resets the box, and the room goes back to normal to reveal an assuming attic. I feel like a lot of these movies could be ended quickly by the characters establishing safe words with the Cenobites.
Sometime later, Frank's brother Larry and his wife Julia enter the house.
It is Larry and Frank's late mother's house, and Larry wants to move into it since it is now vacant. Julia is not a big fan of this till they notice someone has been sleeping in the house, likely Frank. Julia seems…too interested in her brother-in-law, going so far as to steal a picture of him from his effects. More in that later.
Larry talks to his twentysomething daughter Kirsty on the phone, imploring her to move in with them and telling her she no longer needs to "prove a point" by living on her own. It is implied Kirsty is living in a pretty small room, and looking for a job in order to grow up and make it on her own. Kirsty and Larry have a codependent vibe, likely because it was just the two of them after her mother died. Julia is her stepmom, and there is an obvious disconnect between them.
As Larry and Julia move into the house, we are shown a flashback where it is revealed Frank and Julia had an affair which left Julia with an insatiable sexual desire for Frank. Brace yourself for the lengths that this woman is about to go to in order to hook up with Frank again.
They even had sex on her laid out wedding dress! But that is just the start of the evil things Julia is about to do in this movie. After they have sex, Frank looks disinterested, saying "it is never enough!" before storming off.
The flashback of Julia's affair is intercut with Larry unknowingly about to rip his hand open on a protruding nail while moving a bed upstairs. The tension as Frank thrusts into Julia and Larry thrusts the bed as we wait for the inevitably moment he shreds his hand open is unbelievably cringy. And yes…I think Larry literally getting nailed while while Julia figuratively gets nailed by his brother might just be a metaphor!
Larry is nearly ready to faint from the site of his own blood, and as he walks up to Julia and his blood spills on the floor of the attic, it seems to wake something up below the floorboards. It's ya boi, Frank!
Frank reconsitutes enough to talk to Julia and explain he has somehow slipped away from the "Cenobites", and that he needs her help to get more blood in order to become physically whole again so they can be "together like they were before." Please note that Frank immediately abandoned Julia previously as she literally begged him to stay. But like many heterosexual women before her, Julia's questionable choice in a man is about to lead to a whole host of poor decisions.
Larry and Julia have a dinner party to celebrate their new digs, and Larry's daughter Kirsty becomes quite enamored with a boy named Steve thanks to this cigarette trick I guess?
Kirsty and Steve hook up later that night, but Kirsty is woken up from a terrible nightmare of finding her father dead.
The next day, Julia dons some new stunner shades and shoulder pads to pick up a random man at a bar in order to deliver Frank his blood.
This first man is a bit aggressive, mistaking Julia's hesitance to murder him with hesitance to "put out." He apologizes for this behavior, but when he turns his back on her Julia decides it is hammer time.
Frank dismisses Julia because he doesn't want her to see him go to town on the body, and she narrowly escapes Larry busting her while she is still covered in blood. Though she tells Frank she cannot do it again, he convinces her with more blood he can get all his flesh back and Julia agrees to keep helping.
Meanwhile, Julia is having a bad day at the pet store she works at when a seemingly homeless man begins silently eating live crickets.
Julia demands Frank explain what the hell is going on, and he shows her the puzzle box. He says it opens doors to heaven or hell, and that he didn't care which one opened. He just wanted to go past the limits, and that the Cenobites made "pain and pleasure indivisible." But his is adamant they must flee when his body is regenerated because though he somehow slipped them, they will come looking for him.
In the evening, Larry starts to hear sounds upstairs and Julia worries he will find Frank. In an attempt to to distract him from investigating the noise, Larry and Julia begin to have very awkward sex, and she becomes increasingly suspicious Frank is going to attack Larry. He does appear with a switchblade knife, and Julia begins to say "no please no" over and over again. And in a very fucked up sequence, Larry KEEPS GOING without once reacting to his wife's pleas to stop. Finally he heeds her warning (and also complains about her mixed signals), and Frank hides away again.
Larry goes out to dinner with Kirsty later, and decides to confide in his daughter that he is concerned about Julia. He asks her to stop by and see if she can't befriend her stepmom.
Kirsty unexpectedly stops by the house to talk to Julia, and catches her stepmom going into the house with a strange man who will end up being victim number three. But Kirsty catches a whole lot more than that when she goes inside and sees her inside out uncle strangling a mutilated man.
Frank tries to reassure her that its "her Uncle Frank" and to "come to daddy." Which seem like contradictory messages when you think about it.
He comments that Kirsty is now beautiful and grown, implying he is sexually interested in her. They get into a physical fight, and Kirsty grabs the puzzle box as a potential weapon. Frank panics when she touches the box and she realizes it is important. So she throws it out the window, giving her a chance to escape.
She grabs the box from the ground, and sprints away with it like she is a champion runner and it is her baton. She passes two inexplicably judgemental nuns.
Eventually, Kirsty passes out on the sidewalk from shock and exhaustion, leading to three people right out of "it's a big, diverse city" central casting to hover over her in concern.
She wakes up in the hospital, but the medical staff believe she stole the puzzle box, and lock her in her room without a phone. And this movie isn't even set in 2020!
Unable to warn her dad about Frank, she begins playing around with the puzzle box.
The puzzle box opens a passage in the wall, and Kirsty goes in before being attacked by an interesting looking monster.
She escapes the monster and the passage disappears, but she isn't off the hook just yet. The Cenobites have been summoned, and in one of the best villain introductions ever, they appear.
We have Cheerleader, So and So, What's Her Face, and the Ugly One! But for real there are four.
We have Chatterbox, who introduces themselves by sticking their fingers into Kirsty's mouth before Pinhead even has time for a poetic monologue.
Pinhead, who is a bit of an artist with words when not torturing victims to death.
Big Boi (aka Butterball which is literally how he is listed in the credits)
And the girl one (listed in the credits as "Female Cenobite")
Pinhead explains they are "explorers in the further regions of experience", which not to brag, but I did have my own personal Mountain Dew tasting last week so I am a bit of an explorer in the further regions of experience myself.
They tell Kirsty they came because she summoned them, but she makes a deal: she will bring them Frank if they spare her. They are mad Frank escaped them, and agree if she can prove he is alive.
Larry arrives home, and Julia says she has something to show him. Later, we then see Julia having sex with someone, but we don't get a good luck at him. But from how hyped she is, it is definitely Frank.
Kirsty arrives home, and demands to speak to her father. And…she sort of does. But something seems terribly off with Larry.
"Larry" tells Kirsty that she doesn't need to worry, because he killed Frank. And he asks Julia to show her Frank's body as proof. Julia shows Kirsty an unrecognizable corpse in the attic, and her as well as the Cenobites assume the corpse is Frank. Pinhead demands that Kirsty bring him the man who did it, thinking Larry cheated him out of killing Frank.
But Kirsty is about to catch on to what is happening because "Larry" can't help but say "come to daddy" in the creepiest tone ever, making her realize it is actually Frank in a Larry skinsuit. And here you might have thought Face/Off was an original idea!
Julia restrains Kirsty as she tries to run from Frank, and he accidentally stabs Julia to death. Well, accident might be a strong word – he seems indifferent to the mistake, and more interested in his niece at this point.
Kirsty tries to hide, but Jesus nearly gives up her spot.
And then she gets an even worse surprise.
She somehow manages to keeps her cool and Frank doesn't find her hiding spot. But then she weirdly decides to walk out of the room and starts to just…stand and cry with her back to the attic door aka Frank's main hiding spot?
Frank traps her in the attic and tells her to not mourn her dad, because her Uncle Frank is here. But the Cenobites are still there and hear Frank's inadvertent "confession" he is still alive.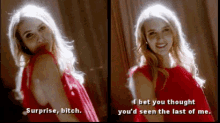 This is enough evidence for the Cenobites to finish what they started with Frank. He curses Kirsty for setting him up, and Pinhead tells her to leave because "this isn't for her eyes." But she stays so we can get some incredibly disgusting shots of chains with hooks tearing into Frank's skin.
At first it is a horrifying death for anybody but then…yeah okay Frank is kind of into it so cool?
He whispers "Jesus wept" before the hooks and chains rip him apart. Kirsty starts to run away, but the girl Cenobite is not having it, coming up the stairs to block Kirsty's exit. Fortunately, Kirsty grabs the puzzle box and manages to solve it in chunks. Each Cenobite disappears in 80s graphics as she solves another element.
And if you thought Chatterbox was rushing things before by sticking their fingers in Kirsty's mouth as a greeting, now Chatterbox has a wedding veil before Kirsty makes them disappear.
Steve arrives at the house in his Rubik's Cube shirt as the house beings to collapse on itself.
They almost make it out, but get attacked by…this demon again.
Steve must be an improv actor in how readily he jumps into this scene. He even attempts to help Kirsty with the puzzle box but she stops that noise real quick.
She figures it out, and they attempt to destroy the puzzle box by setting it on fire. But the cricket-eating man from the pet store comes and grabs the box from the fire before turning into a skeletal dragon and flying away with the box.
Later, the box is seen being sold by the original seller from the beginning of the film to a new person looking to push past the limits.
Random Observations
There are only a few horror movies that do something so disturbing with a character's body that I cringe as soon as the character appears on screen. Sara in Suspiria and Larry in this film are two characters that make that unfortunate list. The moment I see Larry on screen, I think about the creepy flesh suit version of him.
Speaking of other horror films, there is definitely a strong A Nightmare on Elm Street vibe, particularly when the Cenobites first appear to Kirsty and she realizes she hasn't escaped the hell dimension.
Damn this movie is gross. The practical effects and disturbing imagery really holds up 33 years later.
It is wild that this is Clive Barker's directing debut. There are a couple of oddly framed scenes or edits, but for the most part it is a great film without getting bogged down in its literary roots.
Audiences have already analyzed the many ways Clive Barker's queerness has informed aspects of this movie, but one thing in particular I appreciated during this viewing was the way he captured Julia's unbridled lust for Frank. Barker knows exactly how to film and write a bad boy love interest in a way that makes you think "you in danger girl…but I get it."
Upon this rewatch, I have a newfound appreciation for Kirsty as a final girl. She makes some frustrating choices, but the trauma we see her experience justifies any missteps along the way.
It is interesting that Kirsty ultimately survives in part by making a deal with the Cenobites (even if they don't follow through on leaving her alone).
If this one had a subtitle I would definitely advocate for Hellraiser: Worst Stepmom EVER. Julia earns the DJ Khaled "Congratulations, you played yourself" lifetime achievement.
This movie also seems to establish that certain configurations summon or unsummon certain Cenobites.
Verdict
Based on a short story by gay horror writer Clive Barker, the film plays with overt themes of BDSM and insatiable cravings for pushing boundaries. It is intelligent and gory, and definitely a must watch for any horror fan. Also definitely appreciate Kirsty as one of the more dynamic and relatable final girls.