"[White privilege is] having greater access to power and resources than people of color [in the same situation] do."

Francis E. Kendall, Understanding White Privilege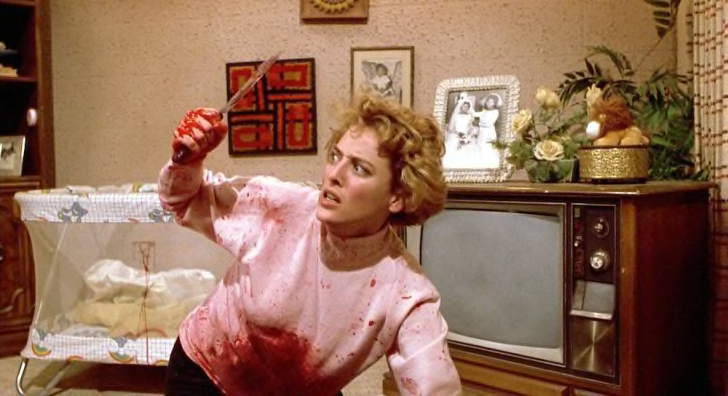 "I just woke up in that place and there was blood everywhere"

Helen Lyle, Candyman
Candyman is a horror film that explores white fears of Black communities, but it also showcases the powers of white privilege through Helen's journey. Although Helen never actually loses her privilege, the film subtly establishes her privilege before contrasting how differently she is treated with and without the benefit of being perceived as an innocent white woman. Playing into the mirror imagery of the film, this contrast is shown most sharply by two scenes that mirror each other involving Helen's interactions with police.
Candyman starts by establishing the way Helen's seamlessly moves through life as an upper middle class white woman. She can devote herself to academia and lives in a luxury condo with her husband. While working on a thesis about urban legends with her partner Bernadette, she has two Black overnight janitors stop their work to tell her about the Candyman legend. She reads stories of Black suffering like the murder of Ruthie Jean (based on the real life story of Ruthie Mae), and seems to delight in how it can support her and Bernadette's thesis about the Candyman legend. She tells Bernadette about her luxury condo being a former housing project in an excited tone like she is conveying a witty cocktail party anecdote. Bernadette even cautions Helen against the way she sounds when describing her research:
Bernadette: Helen this is sick. This isn't a fairy tale, A woman got killed.

Helen: That's not the half of it. That's Cabrini Green, unrecognizable today.

Bernadette: I won't even drive past there. Heard a kid got shot there just the other day.

Helen: Every day

Candyman
When she decides to explore Cabrini-Green with Bernadette, Bernadette is far more afraid of going there than Helen. She packs a taser and Helen reminds her it is "only eight blocks." Helen knows she can rely on her whiteness to keep her safe and protect her, whereas Bernadette is not afforded that privilege as a Black woman. Helen also chastises Bernadette for saying they look like cops when she told her to dress conservatively. It is clear they are both nervous, but Helen is propelled forward by the perceived importance of their thesis, which imagines the Cabrini-Green community as a spiritually susceptible group that "attributes [their] daily horror" to Candyman. Helen inadvertently takes a condescending approach to her subjects, needing their legend in order to further her own career, but seeing the legend as a silly story she can use and discard.
When they enter the abandoned apartment Ruthie Jean was killed in, Bernadette keeps pleading with Helen to stop pushing forward, but nevertheless she persists. Like many horror protagonists before and after her, her quest to know the unknowable will result in her ultimate demise. Although Bernadette voices fears of the housing projects and the people who live there, it is Helen who strides in with a sense of audacity unknowingly derived from entitlement to use the people who live their and their pain to advance her career. It is also worth noting that although Bernadette is Black, she is noticeably lighter-skinned than every other Black character in the film, playing into colorism in ways that the filmmakers probably didn't intend to if their point was to humanize the community of Cabrini-Green.
While taking photographs of the apartment Ruthie Jean was murdered in, they encounter a resident named Anne-Marie. Bernadette keeps trying to get them to exit, but Helen insists on trying to interview Anne-Marie.
"You don't belong here lady. You don't belong going through people's apartments and things…whites don't ever come here except to cause us a problem. So you say you're doing a study? What you gonna say? That we bad? We steal? We gang bang? We all on drugs, right?"

Anne-Marie, Candyman
Although she is initially guarded, Anne-Marie decides to open a bit to Helen and Bernadette. She is dressed in her work clothes, evident by her name tag still being on, which serves as another working class contrast to Helen and Bernadette. Anne-Marie eventually voices her fears of Candyman, a moment of earnest emotion. This immediately smash cuts to Helen eating dinner with a group of friends including Bernadette at an upscale restaurant. They are being taunted by the men in the group, who are already more established in their academic careers. This moment shows white male privilege is still more powerful than Helen's privilege as a white woman and certainly Bernadette's privilege as a light-skinned Black woman, which does help to boost our empathy towards Helen. (If you need a treat after this scene, Smug Philip gets killed at the beginning of the second film).
Later on Helen goes back to interview Anne-Marie further but she isn't home. Helen ends up meeting a young boy named Jake who she convinces to help her find Candyman. She promises that she will keep it a secret that he helped her since he is terrified of Candyman retaliating against him. He takes her to a men's bathroom in a park, and tells her a little boy was castrated there by Candyman. Helen goes inside to investigate; flinching from the smell and covering her nose while trying to take pictures. A group of Black men walk in and one man who calls himself the Candyman knocks her unconscious with the curved side of a hook.
This scene is particularly interesting, because it does the most to reinforce white fears of the Cabrini-Green. Director Bernard Rose said he wanted to examine the fear of a place like Cabrini-Green, and show audiences that type of fear is also an urban myth. But he so firmly associates the place with danger, gangs, and filth, he ostensibly doesn't dispel the myth he allegedly seeks to disprove. Arguably, characters like Anne-Marie and Jake shows there are plenty of innocent people in the housing projects, but Helen's experiences as the protagonist all feature the tinge of fear and threats around every corner. It is also worth noting the lengths to which the film goes to establish Anne-Marie as a good person. From her short conversation with Helen and Bernadette, it is established that she is a single working mother who works tirelessly to support her baby son and give him a better life. She also distinguishes herself from "those assholes downstairs". Jake is an innocent little boy. Both these characters are given no nuance in order to make them sympathetic to a white audience.
Next we see Helen with a black eye, identifying her assailant from a police lineup. The detective working with her is extremely sympathetic towards Helen, congratulating her on her good work for identifying him. When she asks how they found him, the detective mentions they shut all of Cabrini-Green down and flushed "them" all out from top to bottom. And that her assailant is undoubtedly the same person who killed a young boy and Ruthie Jean.
Helen talks to Jake, who is upset she lied to him about keeping it a secret that he showed her where Candyman hides. She apologizes but assures him Candyman is just a myth, and the man who attacked her and murdered two other people just took on Candyman's persona to frighten people.
In one of the next scenes, Helen acknowledges how much her white privilege has shaped this situation and outcome:
Bernadette: I'm so glad you're okay! I would have totally freaked.

Helen: Yeah, but you know what bugs me? Two people get murdered. The cops do nothing. A white woman gets attacked, and they lock the place down.

Candyman
After Helen and Bernadette part ways, Helen is confronted by the real Candyman while she is alone in a parking garage, invoking the dangers of being a woman alone in a secluded space.
This interaction with the real Candyman in a place that invokes danger is a play on the previous scene when Helen is attacked by the faux Candyman in a men's bathroom. Helen is instantly hypnotized by Candyman, and appears to pass out.
The next scene is probably one of the most terrifying in any horror film, both because of its shockingly upsetting imagery (even for a horror film), and how abrupt it feels. Helen wakes up on the floor of a stranger's bathroom covered in blood to the sounds of a woman crying out incoherently in despair. Helen sees a dog's decapitated head on the floor, and then finds Anne-Marie crying hysterically over her baby Anthony's empty crib, blood splashed over the walls above the crib. Anne-Marie attacks Helen, obviously thinking she is responsible, and a scuffle ensues till police burst through the door to see Helen straddling Anne-Marie and holding up a meat cleaver as if she is going to strike the other woman. Helen surrenders to the police and is arrested. Her white privilege has protected her up to a and including now, because if the roles had been reversed it would be highly unlikely Anne-Marie would still be alive.
This scene of Helen in the police station is meant to contrast with her previous experience as the innocent white victim. Helen is forced to strip off all her bloody clothes by a stone cold police officer who ignores her obvious mental and physical anguish. Helen asks to see the detective who helped her identify her assailant, but he is cold and angry with her, calling her sick. Her husband Trevor is able to pay her bail and get her released as soon as possible, still indicating her elevated status. She tries to explain that she doesn't know what happened, but even Trevor seems to doubt her. Her comment that she "just woke up in that place and there was blood everywhere" signifies her belief in her own innocence (which we as the audience aren't even sure of), and alludes to the haphazard way one can be accused of committing a crime simply for being in the proverbial wrong place at the wrong time. Unlike a Black person who lives at Cabrini-Green, Helen is able to use her resources to quickly extricate herself from jail and shield herself from the media. Her name isn't even used in news reports about Anthony's disappearance. But for the first time in her life, she knows what it is like to be treated like a criminal despite her innocence.
Candyman strikes again when Bernadette comes to visit Helen. As Helen lays paralyzed on the ground, Candyman slaughters Bernadette in front of her. Trevor comes home and immediately has Helen committed to a mental asylum. Again, Helen's privilege allows her to be committed versus being arrested for Bernadette's murder.
She eventually escapes the asylum, only to find that her husband Trevor already had his student turned lover Stacey move in, and literally just hoped to pull a "crazy wife in the attic" with Helen. Stacey is so utterly frightened of Helen she can barely look at her.
In this moment, Helen may as well be Candyman himself based on how shocked and upset Trevor and Stacey are at her disruptive presence. She is the embodiment of a problem they thought they could just ignore and wish away.
Eventually Helen returns to Cabrini-Green and finds baby Anthony, sacrificing herself in order to save him. She is now the rumor behind the mural on the wall, and has seemingly taken Candyman's place. Unlike Candyman whose tragic backstory was largely forgotten, Helen is revered by the community of Cabrini-Green. Seemingly the whole community shows up at her funeral to pay their respects, led by Anne-Marie and Jake. Helen now a vengeful spirit one can root for because she appears in the final moments of the film to come and kill the seemingly remorseful but still shitty Trevor.
I realize this sounds like a harsh criticism of Helen, but it really isn't meant to be. Nor do I think the creators of the film were cognizant of their bias when writing it. I mean merely to analyze how the film addresses and uses white privilege in a story focused on race. Racism is the real evil that gives birth to all the other evils in this film. But Helen moves through the film as a product of a society that uplifts and validates white privilege. She is dismissive of the Candyman legend and its impact on the Cabrini-Green community up until it impacts her. She uses her privilege in order to insert herself into a story and community that was never hers, which results in death and destruction. Yet it is because of this very privilege that she is still upheld as a hero by the end. Her legend is a sharp and powerful contract to Candyman's, showing just how different they are treated at face value.
Her journey and fears ultimately validate white fears of places like Cabrini-Green, and mirror the white fears that shape the film. In the end, Helen gets what she wants. She is immortalized beyond even her wildest dreams of writing an innovative thesis. The people of Cabrini-Green admire and revere her. Even her philandering husband is shown to be full of remorse at her loss, unable to function in his new relationship. Even though she would still appear to have murdered Bernadette and her counselor, she is remembered for the good she did. Thus despite the perceived fear of losing white privilege, she has never truly lost it and now benefits from it beyond death.