To be clear, it did not make me AGREE with extremists, but rather it helped me understand how people are radicalized and seduced by extremist ideas. But first, some background on the show and how it get there. Just a warning, this will include spoilers for season four of Supergirl.
*****SPOILERS AHEAD*****
Supergirl's target audience appears to be tweens. It isn't that complex or morally ambiguous for the most part. Early seasons develop Kara Danvers/Supergirl's group of friends and colleagues while she develops her skills. It has an annoying amount of parallels to Superman. It feels like they were too afraid to forge their own path at first. Jimmy (he now goes by James) Olsen is a series regular. Lois Lane's cousin was a recurring character. Lex Luthor's sister Lena is a main character. Various Superman villains must routinely be dealt with. Like her cousin Clark, Kara is pursuing a career in journalism.
At first, I refused to watch Supergirl because the initial trailers definitely gave me a "she's as strong as steel but she is also learning how to walk in heels!" chick flick vibe. But eventually I started watching because I have a huge crush of Melissa Benoist. Just keeping it honest here. My main complaint about Supergirl is how often it seems to forget who the main character is supposed to be. I love the ensemble but this show sometimes spends multiple episodes focusing on other characters. Also did ANYBODY actually die when Krypton was destroyed? It is hard to tell at the rate new Kryptonians are introduced.
But there are things I love about this show. Supergirl delights in its own cheese, and its progressive politics. The show deliberately features female characters whenever it can, including bosses, pilots, soldiers, and even the POTUS. To the point that you can't help but notice it is deliberately casting female characters whenever possible. The creators cast a trans actress to play a trans superhero from the comics which was really refreshing to see. Lest you forget for even a moment, Supergirl herself reminds you at the beginning of certain episodes that she is a refugee who crash landed on earth, and now serves as one of its main protectors. She is upheld as the poster child of a great alien when anti-alien sentiments fester and develop among humans.
Anti-alien sentiment as a thinly-veiled metaphor for anti-immigrant sentiment runs throughout season four of the show. And like many Supergirl metaphors, it was pretty ham-handed to watch as an adult, probably because the show is geared towards a young audience. Then episode three happened.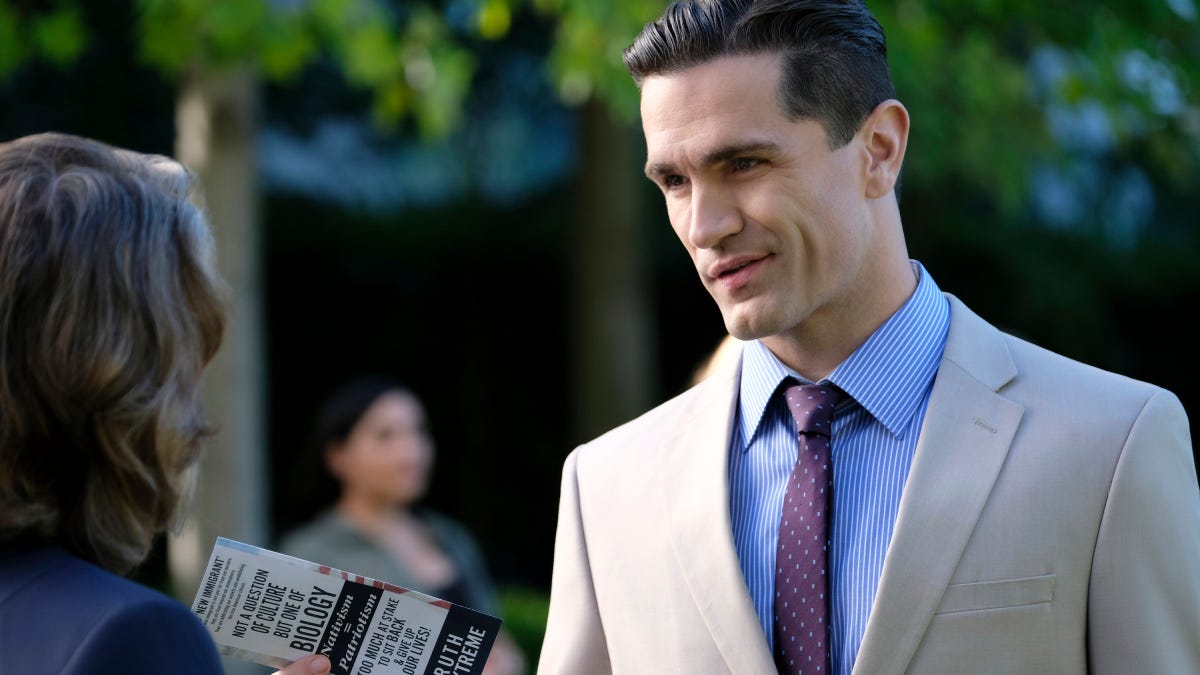 The episode "Man of Steel" follows the story of Ben Lockwood. Initially presented as a liberal professor, we slowly watch Ben's life unravel, often inadvertently at the hands of Supergirl and her associates.
We see that he is frustrated with his stereotypically conservative father who bemoans how aliens with superhuman strength are putting good, human workers out of work. His father also scoffs at Supergirl and the Alien Amnesty Act. Ben tries to argue with his dad about the comments but ultimately lets them go.
Lena Luthor pulls funding from his dad's steel factory because his dad refuses to put in environmental regulations Luthorcorp insists on. Then Ben's home is destroyed during a battle between Supergirl's colleagues and invading aliens. Caroline Siede's AV Club review of the episode offers an excellent analysis of the episode's effectiveness in helping us understand Ben's path to xenophobia, even if we do not agree with him.
It is so rare (especially in a superhero franchise) for a villain to have nuance and not just be a generic evil person. A notable example of a well developed villain is Killmonger in Black Panther. You may not agree with Killmonger, but you could completely understand him and get why he was doing what he was doing. I've heard similar sentiments about Magneto in X-Men and The Lizard in Spider-Man. Ben isn't quite as epic as those characters, but the episode does what it sets out to do, showing us how Ben Lockwood became Agent Liberty. It struck a real nerve to see how someone could become so radicalized so quickly. It was scary, and I was hooked.
Ben links up with a set of villains who help him adopt the persona of Agent Liberty, a figure who begins rapidly gathering followers as anti-alien sentiment continues to take hold. This was incredibly exciting. Ben Lockwood/Agent Liberty is not someone Supergirl can just punch and be done with. He is fighting largely with words, and she has to try and respond in kind. But Supergirl's message of kindness and common decency are starting to fall on flat ears.
Kara decides to try and fight the rising tide of xenophobia using her journalism. This results in Kara being invited to debate Ben on live TV. And he smokes her.
This is incredible. How on earth will Supergirl get herself out of this one? How can you reason with someone who is radicalized like Ben Lockwood? And how do you fight him without turning him into a martyr? When Supergirl finally gets Ben revealed as Agent Liberty and he is arrested for domestic terrorism, his followers become even more fanatical.
But then…the storyline gets unceremoniously dropped. Or, more aptly, it is revealed that Ben Lockwood/Agent Liberty has unknowingly been a puppet of a larger conspiracy the whole time. The entire time this timely villain has secretly been manipulated by the "real" villain Lex Luthor. And Ben is essentially punched out of commission, which was basically the one thing that wasn't going to work to make him go away.
Unfortunately, the series didn't resolve the great storyline it created in a satisfying manner and went for the cheap thrill of introducing Superman's arch nemesis instead. And now the show has doubled down on Lex Luthor, making him a recurring character.
I still enjoy Supergirl, and the show has some really great moments that make up for more boring or predictable storylines. I just wish it had really dedicated itself to this villain and story instead of making it yet another Lex Luthor story.