From IMDb: In a small, remote village in northern Quebec, things have changed. Locals are not the same anymore – their bodies are breaking down and they have turned against their loved ones. A handful of survivors goes hiding in the woods, looking for others like them.
During Horror in the Time of Quarantine, I've been making a conscious effort to dig into my ever-growing watchlist on Netflix, Kanopy, and Hoopla. I don't know about you, but I often find myself spending more time adding to my watchlists than…you know…actually watching them.
With Netflix in particular, I'm grinding through their horror originals to see if there are any worth suggesting in a post. So far it has been frustrating, and I decided to look at the IMDb and Rotten Tomatoes scores for other titles on my Netflix watchlist to see if any had good scores. Surprisingly, Ravenous has solid critical and audience scores on both websites. Like Cam which I also enjoyed, this was released widely on Netflix but it is not a Netflix original.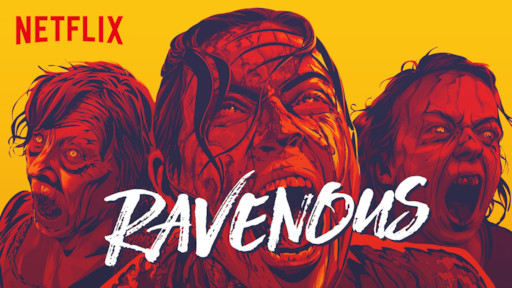 Even with good reviews I was resistant to watching yet another zombie movie or show. With zombie, war, or gangster movies I always have the same thought: what could this one possibly offer that hasn't already been done before?
To be honest, Ravenous doesn't break any new ground for zombie films. But it is a very solidly crafted zombie film that hits the right notes of suspense, dark humor, and existential dread. Ravenous effectively blends its dark humor with pathos. It never slips so much into one or the other that it feels disingenuous. The direction in the opening 15 minutes is spectacular.
It is methodically paced and quiet a fair amount of the time, but I never felt like it was slow or pretentious. I think this is due in part to how utterly gorgeous the cinematography is.
The film is a masterclass in explaining just enough so you aren't frustrated, but also giving you small tidbits and insights into the characters and themes in ways that allow you to draw your own conclusions.
It also has some great scares and suspense. It is so shockingly refreshing for a zombie movie make me nervous or scared about what is around a corner.
This also has an excellent supporting female character who is both a realistic woman AND given a character arc typically reserved for male characters. Céline gives me big time Michonne vibes (she even packs her own machete!), so if you love that character definitely check this out.
I highly suggest checking this one out, and I don't make zombie movie suggestions lightly.